What are the types of Life Insurance?
If you already have a life insurance policy or are planning to buy one, you might already know that there are various types of life insurance plans available in the market. To get the maximum benefit out of the life insurance plan, you should buy the right plan that matches your requirements.
It is best to buy a Term Plan, i.e., the pure form of life insurance, instead of a Market-Linked Life Insurance Policy or a Guaranteed Life Insurance Policy. Although there are various types of insurance-cum-investment plans, it makes sense to buy a term plan to secure your family's future and invest your hard-earned money into different financial instruments, such as fixed deposits, stocks, mutual funds, Systematic Investment Plans (SIPs), etc. that can offer higher returns over time.
Here are some of the popular types of Life Insurance plans:
1. Term Life Insurance Plan:
Term insurance is basic life insurance that everyone must have, as it offers financial protection to your loved ones at an affordable premium.
Term Insurance is a type of life insurance that provides coverage for a certain period called 'term.'
In case of the policyholder's unfortunate demise, Term Insurance provides financial protection to the policyholder's family.
A policyholder is required to pay a premium for a chosen term. However, failing to do so will result in policy lapse.
The three major factors affecting the premium are the policyholder's age, sum assured, and the policy term. The policyholder's health and medical history are also considered while calculating the premium.
The sum assured is offered to the nominee in the form of a death benefit in case of the unfortunate demise of the policyholder within the policy term.
The policyholder is not a beneficiary in this type of insurance because the sum assured is given to the nominee in case of the death of the policyholder.
If the policyholder survives the policy term, he/she gets an option to renew the policy with a new term, but the premium is calculated considering the age and health conditions at the time of renewal.
Traditionally, Term Insurance does not offer survival benefits. But, nowadays, many insurance companies are offering ample benefits.
Most leading insurance companies offer riders and add-ons that can be purchased for a slight increase in the premium.
Since insurance-cum-investment plans generally do not offer high returns, it is advisable to cover yourself with a Term Life Insurance plan and create a corpus to achieve your long-term goals through other high-return generating financial instruments.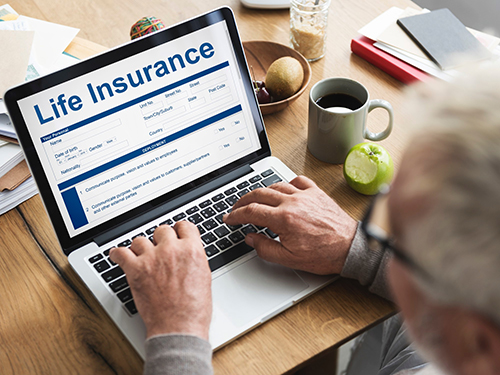 2. Whole Life Insurance Plan:
Whole Life Insurance provides financial coverage to the policyholder throughout the lifetime (typically 100 years), provided the policy is in force.
Apart from the death benefit, it comes with a cash component, also known as cash value, which is accumulated over time.
A policyholder can withdraw the cash component in case of a financial emergency or avail of a Loan Against Life Insurance by offering it as collateral.
3. Endowment Life Insurance Plan:
Endowment Life Insurance Policy not only covers the policyholder's life in case of an unfortunate demise but also offers a maturity benefit at the end of the policy term.
Hence, once the policy term is over, the policy matures, and the policyholder receives the maturity benefit.
In addition to the sum assured, many insurers offer guaranteed returns and bonuses on endowment plans.
The returns can be used to fulfil your long-term financial goals, such as your child's education, child's wedding, retirement, vacations, etc.
The policy term of these plans is generally 10 to 20 years, and a policyholder can accumulate good returns over this period.

4. Money-Back Life Insurance Plan:
Money-Back Plan is another type of insurance-cum-investment plan that offers a death benefit along with substantial returns.
The plan offers life coverage during the policy term. So, the death benefit is offered to the beneficiary on the demise of the policyholder.
The policyholder receives a percentage of sum assured (survival benefit) at regular intervals, unlike lump sum benefit in regular endowment policies.
The income earned from a Money-Back Life Insurance Plan can be utilised to meet any of your financial requirements.
5. Pension Plan:
Pension Plan, also known as Retirement Plan, is a Life Insurance plan that offers regular income during retirement.
If you start investing in a good Pension Plan at an early stage, you can build a good corpus to live a respectful life without depending on anyone for your financial needs, such as household expenses, medical emergencies, etc.
In case of an untimely demise, the pension plan offers sum assured (death benefit) to the nominee.
It is essential to choose the best-suited pension plan from the various types available, such as immediate annuity, deferred annuity, annuity certain, etc.
Who Should Buy a Life Insurance Policy?
Any person, earning or non-earning (considering their economic value), with dependents and unpaid debts should buy a Life Insurance Policy.
Moreover, individuals with no dependents but still want to leave behind a legacy for their family can also buy life insurance.
Some experts also suggest purchasing life insurance for children, considering their future potential income.
What Are the General Eligibility Criteria to Buy a Life Insurance Policy in India?
Indian citizens, Non-Resident Indians (NRIs), and Persons of Indian Origin (PIOs) can buy a life insurance policy in India.
Most insurers conduct a mandatory medical test that helps them know if the proposer has any medical conditions and the risk associated with them. The premium is calculated based on the risk category of the individuals.
Since the smoking habit affects the individual's health, the premiums for smokers are generally higher than that of non-smokers.
An individual is eligible for life insurance only if they are able to submit the required documents to the insurer.
What Are the Required Documents to Buy a Life Insurance?
At the time of buying a Life Insurance Policy, the insurer will advise you on what all documents are required to satisfy the underwriting guidelines. However, you are typically required to submit the following documents:
Identity Proof
Address Proof
Age Proof
Income Proof
Passport size photographs
How Much Life Insurance Coverage Do You Need?
Most of us are aware that buying a Life Insurance Policy is essential to secure our family's financial needs. But, the question arises, how much life insurance coverage does one need?
There are many methods to calculate the life insurance coverage you require. Hence, there is no ideal figure to be specific. However, we will focus on the four most effective strategies that are widely used to calculate life insurance coverage:
1. Human Life Value:
This method focuses on a person's economic value or Human Life Value to their family. The monetary value of a person's life is nothing but a present value of the future income that they could expect to earn for their family. Since it is a prospective amount, the inflation rate is also considered while calculating a Human Life Value. So, according to this method, the life insurance coverage of a person should be in proportion to their Human Life Value.
2. Income Replacement Value:
With the demise of the sole breadwinner, a family may have to go through unexpected financial problems. The Income Replacement Value method focuses on replacing the policyholder's lost income so that their family can continue with the same lifestyle even in the absence of the policyholder.
While there are multiple ways to calculate the Income Replacement Value, the most straightforward and widely used method is:
[Current Annual Income X No. of Years Left for Retirement]
3. Expense Replacement:
As the name suggests, the Expense Replacement approach considers a person's day-to-day expenses, outstanding loans, family members' important life milestones like child's education, wedding, the retirement of a spouse, etc.
So, the total of all these possible expenses is the amount your family is going to need in the future. And, if you deduct your existing assets and investments from it, you will get the amount of life insurance coverage you need. However, one should not count the assets that the family would not sell, like the house you and your family live in.
4. Underwriter's Thumb Rule:
As per Underwriter's Thumb Rule method, one should have life insurance coverage in multiple of their annual income depending on their age. So, for instance, if you are in the age group of 21-30 years, your life insurance coverage should be 25 times your annual income. Whereas, if your age is between 31- 40 years, your life insurance coverage should be 20 times your annual income, and so on.
What Are the Factors Affecting Your Life Insurance Premium?
Once you have calculated the life insurance coverage you need, it is necessary to check how much premium it costs. Although you need to have sufficient coverage, your premium should also be affordable. Your life insurance policy lapses if you fail to pay the premium on time, even after the grace period. Therefore, it is not advisable to opt for excess coverage as it might create a burden of premiums.
Your Age:

A policyholder's age plays a vital role in calculating required life insurance coverage and the premium. Younger people need more life insurance coverage as they have higher responsibilities towards their families. In addition, since the risk of paying a death benefit is lower for younger people, the premium is also lower.

Gender:

As most of us are aware that the life expectancy of females is more than the life expectancy of males, most insurance companies charge a slightly lower premium to female policyholders than their male counterparts.

Medical History:

An insurance company may ask for a medical check-up before purchasing a life insurance policy. Some health conditions like obesity, high blood pressure, high cholesterol, etc., can increase health-related complications. Hence, the insurance company charges a higher premium in such cases. If a health risk is very high, the insurer may reject the policy application.
What Are the Benefits of Life Insurance?
1. Financial Security:
As already discussed, life insurance provides financial security to your family so that they can continue living the same life without compromising on their life goals in your absence.
2. Covers Your Loans:
In case of an untimely demise of the policyholder, the family does not have to stress about arranging for the funds or selling off an asset to repay the loan. They can use a part of the death benefit received for loan repayment.
3. Proud Life:
By investing in insurance-cum-investment plans, elders can continue living a proud life without being financially dependent on anyone. Moreover, such plans can also be beneficial for achieving long-term goals like a child's education or wedding, creating a corpus to purchase a property, etc.
4. Tax-Benefit:
You can avail of annual tax deductions of up to Rs 1.5 Lakhs per financial year under Section 80C of the Income Tax Act 1961 for the life insurance premiums you pay. Besides, if the premium is not more than 10% of the sum assured or the sum assured is at least 10 times the premium, Section 10(10D) of the Income Tax Act makes the maturity benefit entirely tax-free.
5. Peace of Mind:
Knowing that your loved ones have a financial safety net provides the ultimate peace of mind to the insured.
What Are the Points To Keep In Mind When Buying a Life Insurance Policy?
1. Buy Early:
Buying a life insurance policy at an early stage of life when you are young and healthy is the best way to get maximum life coverage at a lower premium. The premium remains the same throughout the policy term. But as you age, you are more susceptible to illnesses and other ailments, which is why the risk of life insurance companies paying the sum assured also increases. It ultimately results in an increased premium with each passing year. Therefore, it is advisable to buy a term plan as soon as you start earning.
2. Coverage and Tenure:
Most individuals, unfortunately, decide the coverage and tenure of the life insurance based on the premium they are required to pay. However, doing this will not serve the purpose of life insurance coverage because the sum assured might be inadequate for your family's needs in your absence. When deciding the right coverage, it is crucial to consider your future goals, inflation, lifestyle changes, etc. Furthermore, if you do not opt for a sufficient policy tenure and coverage when you are younger, increasing it later will lead to a higher premium as you age. Hence, it is necessary that you opt for adequate coverage and policy tenure.
3. Provide Correct Details:
Concealing important personal and health information, intentionally or unintentionally, can lead to the insurance company rejecting your claim. If an insurer finds any misrepresentation of the information you provided at the time of purchasing the policy or filing the claim, they can reject your claim or even cancel your policy. Therefore, when buying your life insurance policy, provide accurate information, so that the process of filing a claim goes smoother.
4. Research:
Most individuals are not well-versed with insurance terminologies and often buy a life insurance policy without thoroughly understanding the policy features and terms. If you do not make an informed decision when you buy or renew a life insurance policy, you might end up with a policy that is not suitable for your requirements and you may end up paying a higher premium. It is advisable to do your research by comparing the policy features and benefits, premiums, terms, and conditions claim settlement ratio, claim processing time, fee, etc., before choosing a life insurance policy that is best suited for you. Many financial websites allow you to compare various life insurance policies from different insurance companies. You can also read the customer reviews to gain insights into the life insurance company and its policy. This can help you decide the best life insurance policy for you.
5. Read the Fine Print:
The policy document contains all the information related to the policy, including product features, terms, and conditions, inclusions and exclusions, exemptions, etc., that a policyholder needs to be aware of. If you do not read the policy document before buying the life insurance policy, you could face future disputes. So, make sure you read all the policy documents to make an informed decision and avoid any disputes in the future. A policy may have certain terms that you may not understand; seek the assistance of an insurance or financial advisor to clarify your doubts and understand the policy before making a purchase decision.
How To Buy a Life Insurance Policy?
You can buy a life insurance policy online from the comfort of your home by visiting the insurer's official website or offline by visiting the nearest branch of the insurer. However, buying a life insurance policy online has many advantages. It is easier to make the comparison of different policies online. Moreover, insurance companies offer several discounts on the online purchase of a life insurance policy from time to time. In some cases of offline purchases, the insurance advisor might not disclose all the policy features, exemptions, or terms and conditions to make a profit.
Remember, each insurance company will have a different process for buying a life insurance policy. Still, these are general steps that are common for all the insurers which can be used to avoid making common mistakes at the time of buying a life insurance policy:
Decide which type of life insurance is right for you.
Decide how much coverage and tenure you need.
Do your research online and compare different insurers.
Choose the right insurer and best-suited life insurance policy for you.
Look for suitable riders to enhance the benefits of the insurance plan.
Once everything is finalised, visit the official website of the insurer.
Click on the 'Buy Now' option of the policy you have decided to purchase.
Carefully read all the policy details.
Fill in all the details correctly in the proposal form.
Upload the necessary documents.
Submit the details and make an online payment.
The insurer will give a confirmation call immediately after you make the payment.
In case you have any doubts, you can clear them with the insurance representative on a confirmation call itself.
Once you provide your confirmation, you will receive the policy details through an email.
It is advisable to read the policy document thoroughly. In case of any misunderstanding, you can cancel your policy anytime in a free look period.
While purchasing the life insurance policy online, if you have any doubts at any stage, you can call the Customer Care of the insurer to understand the terms or purchase process.
Buying a Life Insurance Policy for the first time can be overwhelming. But, the time you spend understanding your requirements and doing thorough research to find out the right insurer and suitable policy is worth it.
As already discussed, it is advisable to buy an online Term Plan for life coverage instead of investing in an insurance-cum-investment plan. There are many other investment options that can take care of your long-term financial goals.
Furthermore, make sure you carefully read and understand all the features, benefits, terms and conditions, list of exclusions and inclusions, policy exemptions, etc., to avoid any disappointment or dispute in the future.